8 port UHF Timing Box
The heart of the system is the Black Box which is a self-contained timing system that can record, store and forward chip readings using its internal industrial computer. Powered by internal high quality 12v Lithium batteries it can operate for at least six hours. With external battery or main power it can run indefinitely making it ideal for endurance events.
As the heart of a timing system, the Black Box needs to be able to communicate with other devices. The standard Black Box system incorporates three Ethernet ports, Wi-Fi, and GPRS/4G possibility.
Our proprietary controller software and all the functionality to manage an event is provided through a sequence of clearly arranged screens.
It also has a unique testing mode which allows the user to test the quality of the RFID field before events.
The Black Box stores data internal and can automatically upload data to our cloud service for remote access whenever a connection is available.
The Black Box is designed to handle all kinds of events. From small events with 50 participants to major events with more than 50.000 participants.
Our systems are operating on an open standard and can read all non-encrypted GEN 2 UHF timing chips.
Systems are normally delivered with

Technical specifications
1280*800px color screen for management software.

Internal storage allowing virtually unlimited event data capture

Three ethernet ports and WiFi

3G/4G mobile connectivity is built-in.

Power socket for charging.

External accessory port for high powered sounder/flasher.

Eight external antenna connections.

Supplied in an industry standard Peli case for transport and protection.

Eexternal dimensions: L50, H18, W39cm. Weight: 10.7 kg.

Software
Fully integrated with Black Box Timing Software

Support for other scoring software, such as RaceTec

Protocol specifications available on request, to integration with any software system.
The Black Box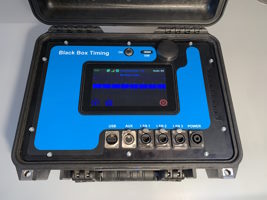 Black Box timing boxes is used all over the world
It is based on reliability and we are proud to say, we think the most reliable and cost effective system out there.
We do not lock timers in any contract and Black Box accept all GEN 2 UHF timing chips from any vendor.
You can use any timing and scoring software you prefer.